Plantronics Voyager 6200: A Lightweight VoIP Headset for Work and Life
Knowing what you are getting before making that purchase is always a wise move! Today, we invited our VoIP consultant, Jon Garbin, to show you what you can expect from the Voyager 6200 UC VoIP headset. Let's get started!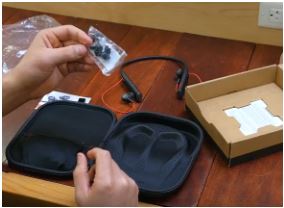 This headset comes with a travel case, Bluetooth dongle for you to pair up with your device, two different sizes earbuds (small and large), and a cradle for charging purpose.
Look & Feel of the Plantronics Voyager 6200
The first thing you will notice when trying the Voyager 6200 is that it's super light! If you are looking for a zero-stress headset for all-day use, the 6200 will definitely be a good fit.
The Voyager 6200 is designed to use both inside and outside your workplace. Whether you are on a call with your customer in the office or you are jogging outside during your off time, this headset will be your perfect partner. See more unique features:
4 built-in microphones

Auto answer and pickup button

Volume control

Super light for in/out office

Adjustable earbud sizes
"Overall, the Voyager 6200 is a great option. I use it with my customers all day and never had any complaints about the sound when I am talking to them. I definitely recommend it!" – Jon Garbin, Solutions Consultant at VoIP Supply
Have you tried the Voyager 6200? Let us know what you think in the comment box below!
Where to buy?
The Voyager 6200 UC headsets are available in two colors: Black and Sand. You can purchase at our online store or simply give the VoIP Supply team a call at 1-800-398-8647.
The post Plantronics Voyager 6200: A Lightweight VoIP Headset for Work and Life appeared first on VoIP Insider.

VoIP Insider