New! Sangoma Welcomes the s205 Entry-Level SIP Phone to its s-Series Family!
Are you a small business looking for a basic SIP Phone that simply works? If you are familiar with Sangoma's s-Series SIP phones, you must have heard the s300 entry-level IP phone, which is equipped with 2 SIP accounts, 6 feature keys and 5-way conferencing.
Now there's one more great option at an even lower price point for small start-ups looking for a simple solution without bells and whistles: the s205 Basic IP Phone!

Entry-Level, Affordable IP Phones: Hot-Desking, Built-in VPN, EndPoint Manager
The s205 is an entry-level SIP Phone designed with all the fundamental capabilities you'll need for daily operations. This 1-line SIP phone features Host-Desking function that allows you to access all your settings simply by logging into any phone with your extension and password. This is perfect for users without a permanent work desk such as call-center agents and roaming workers!
Even better, it comes with marketing leading security features that will give your whole team peace of mind. With the built-in Virtual Private Network (VPN), your remote workers are able to access all the tools from the office without compromising security.
Like all other s-Series Phones, the s205 is also designed to work with FreePBX and PBXact phone system using Zero Touch Provisioning. This affordable entry-level s205 is a phone that anyone in your office or remote can install, provisioning and start using right out of the box!
Popular Features: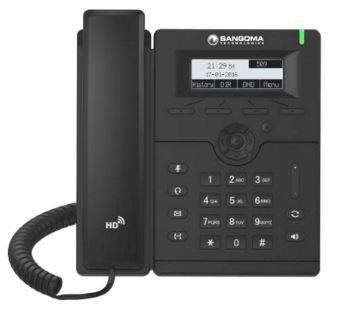 1 SIP Account

3-line display

10/100 Dual Ethernet

HD & PoE

5 Way Conference

Full Duplex Speakerphone

Zero Touch Provisioning

EndPoint Manager Included

Hot-Desking- log in to any phone and all your settings follow instantly.

Built-in VPN

Optional Annual Support & Software Maintenance Plans
Click to Download the s205 Datasheet
The s205 IP Phones are now In Stock!
The s205 is now currently available at our online store. Visit our site or call of our VoIP experts at 1-800-398-8647 today to place your order or have all your questions answered!
The post New! Sangoma Welcomes the s205 Entry-Level SIP Phone to its s-Series Family! appeared first on VoIP Insider.

VoIP Insider